I find it perverse to find a way to force Google to sit, stay, rollover and do the tricks I want instead of what it decides. The sense of power is, of course, a made-up illusion, but nonetheless the effect is robustly divine.
After explaining my current approach, creating a quick shortcut for CC licensed google image results and steps hpw ypu can do the same, I present to google my latest hatched karate chop.
My shortcut gift
My almost daily use of Google Images is to find images that are openly licensed for use. Yes, if you search for it you will find tons of results explaining how to do this.
Enter your search terms, click the button
By default, you will get results from the entire camouflage nation.
Then click tool.
Then search for Usage rights Menu.
Then choose Creative Commons Licenses.
So you need to see the results first that you are unlikely to be able to reuse, then it will take 2 more clicks to find the ones to reuse.
And if the results suck, try adding a new term to the search.
The results lead you back to viewing the general pool of images. So you have to repeat the pattern to filter again.
I find this repetition not only wasteful but offensive. Remember, the main job of Google is always to have more content in mind for you to click. The more you click, the more data is collected.
My approach for a long time, going back to gy Gift of Time in 2013, is to use a custom browser search.
In Chrome if you have to. walk ideas then search engines (direct link) You won't be surprised to find some options for the default search tool in your browser (similar settings exist in Firefox, Safari, etc.).
Keep scrolling down and there's a whole bunch of "Other Search Engines" … if I'm correct, in Chrome every time you type a keyword into a website's search box it adds an entry here. But what I learned in 2013 (and that was a nod to Chris Lott showing me this) is that I can add my own patterns.
Now the results of Google search are given a mile-long set of parameters that are added to the result URL. I've done some work to reduce it to the bare minimum.
What I can do now (and how to do the same thing below) is in my browser url bar, type in gcc Press TAB, type in my search terms, hit enter and BOOM! I only receive images that are licensed Creative Commons. I bet I've done this 20,000 times since 2013.
Here is the skinny.
Back in Chrome too ideas then search engines (direct link) Scroll down to Other Search Engines and click Add to Button.
The name will be shown in the browser bar, if you activate it, name it whatever you like, even "Google I Order You To Be CC". The keyword is a shortcut that you will remember to activate it, so make it easy to remember. Mine is gcc (I couldn't enter that again in the screenshot above). The third is what it does, it's the search result which includes all the parameters you want to enter and %s Replacing the actual search terms from a result. For this example, use:
https://www.google.com/search?q=%s&tbm=isch&tbs=il%3Acl
Who wants to know q are the search terms tbm=isch indicates that it is a Google image search and tbs=il%3cl let those who are CC licensed return it.
That worked wonderfully and I still have a few shortcut searches in my arsenal (f TAB searches my Flickr photos, Wiki TAB searches Wikipedia). But the problem is the same as before – my shortcut works fine for the first search, but changing keywords will trick me into searching images without filtering by CC.
The new trick
What I have long hoped for was a setting in Google Chrome, or maybe even an extension that would make Creative Commons Licensed my standard any Image search.
It can't be that complicated, others also asked. Why can't Google offer a range of setting options (see above for the reason for the click).
So I hacked my own answer last week.
I found a browser extension called Requestly (works on more than Chrome) that allows you to change a URL on your browser. Once installed, you can go to a place to create your own "rules" (account is not even needed).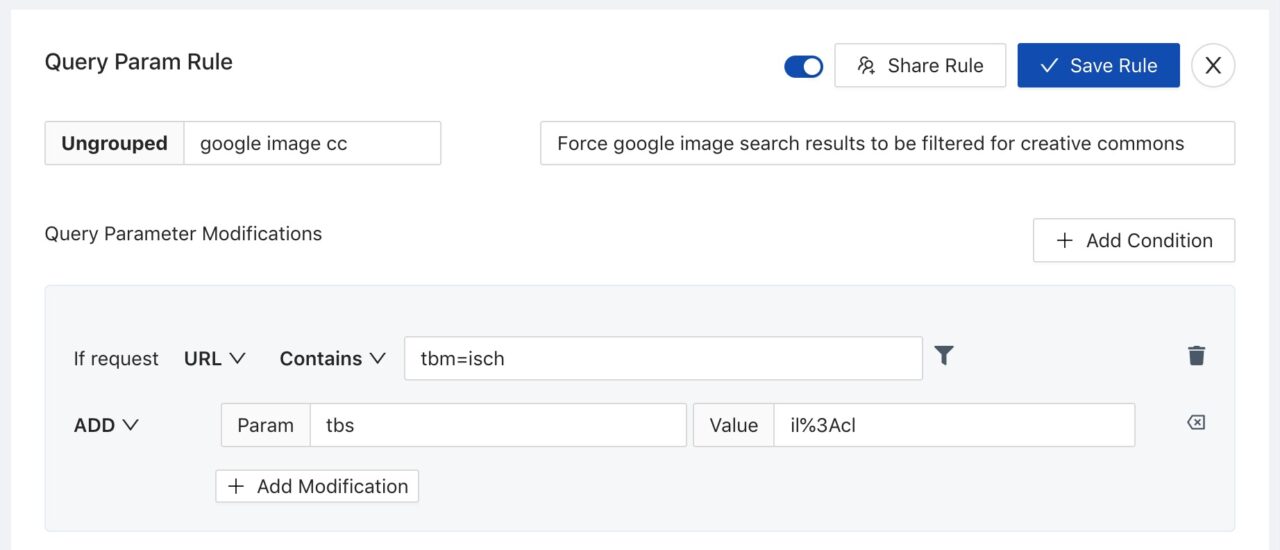 Now I've experimented with tons of settings, this is the easiest for now, Alan Borrowing Occam's Razor. I'm running on urls that contain somewhere in it tbm=isch This is what a Google image search result identifies. I suppose there is a chance other websites are using the same query parameters, but nothing here is going to break the web for you.
All it does is add the additional query parameters to the url tbs=ol%3ci which enforce a Creative Commons license on the results. In Requestly you can create your own via the Create rule Button. I couldn't export my rule through a free account, but I was able to create a share link that you can use to import the rule.
Now here is the fun part. Regardless of what terms you type into Google Images or what tool options you change, you will only get results that are licensed by Creative Commons. I cracked your code! bahahahahahahaha.
There is a downside.
As a result, I can never get any other stuff. I would either have to disable the rule in my Requestly settings or disable the extension if I want to see things that are not CC licensed (or just switch to an incognito browser window or another browser).
I did my best to get the regex search to work that would bypass this, but I just fell short.
This is just a first try, but I'm pretty proud of the result. I can get Google to sit, lie down, and turn and only give me image search results that are openly licensed.
Commercial and other WTF licenses
As an aside, I've never looked at the results listed as options for "Commercial and Other Licenses" – it looks like it says try (without my gizmo activated) https://www.google. com / search? q = dog & tbm = isch & tbs = il: ol
Yes, you will get results from Shutterstock, of course, but you will get results from many other dog and pet sites as well. Above the results from you via "Licensable" and when you click on the preview, the name of the photographer will be displayed and a link will be made to Getty Images. I downloaded a lot and couldn't find this in the photo metadata, so Google must have a different correlation between images on e.g. Petfinder.com or AKC.org, even edx.org (remember when it was "open "Went?) And Getty.
Oddly enough, I see results that indicate they are from Unsplash.co listed as licensable by istockphoto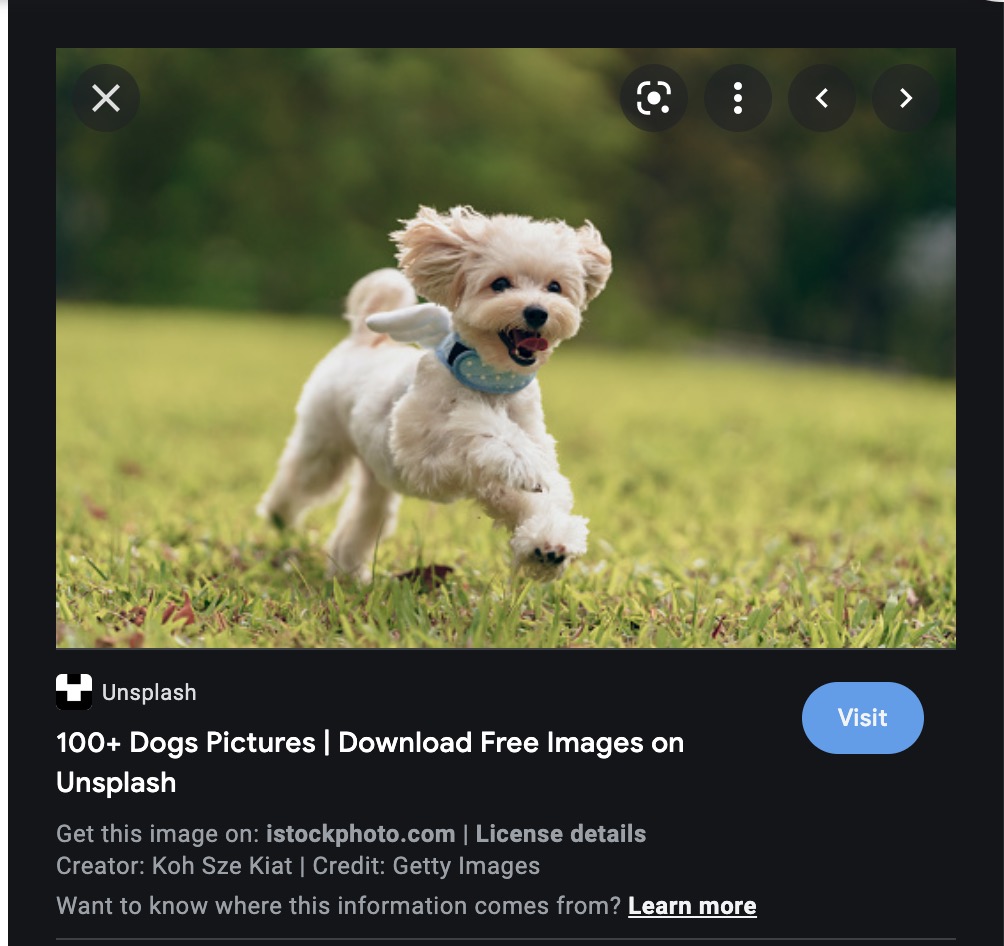 But if you click on the picture it's clear. You don't go to an Unsplash photo for this little toy dog ​​but to search results for Unsplash which have the iStockphoto photos above you need to scroll past to get the ones you want.
This again supports my claim that Google will push you more and more to commercial content, which will give you more links to commercial content. Why would you get an image search result that isn't the image you're previewing but a search results page that has it as a thumbnail?
While they pay lip service to Creative Commons with a buried option in search that you can't even pretend, they are by no means a custodian of the Commons.
Do whatever you can to undermine Google. And find joy when you are successful. It's a likely lost war, but you could win a few skirmishes.
---
Featured Image: Revox A720 Digital FM Tuner Preamplifier Flickr Photo by touhotus shared under a Creative Commons (BY) license modified by Alan Levine to include CC on the display, change the Revox brand name to Google Images and the button labels to change